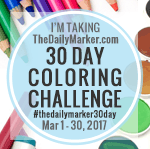 I have taken Kathy's 30 Day Coloring Challenge several times & have never completed them. I'm hoping to get further with this one!! LOL We are headed to Texas A&M this weekend for an archery tournament & one of the archery dad's is having a birthday while we are there. I made this card for him. They raise goats, so he'll get a kick out of it!
Stamps: Old Goat Art Impressions
c/s: white, Kraft, blue
copics, twine
Until next time!
~Misti